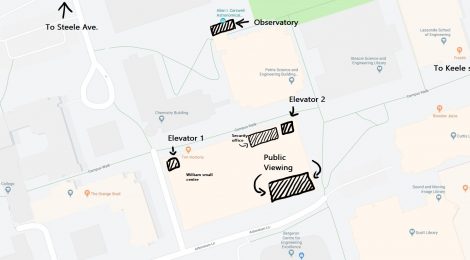 Wednesday night Public Viewings will be hosted​ on top of the Arboretum Parking Garage (William Small Centre) until July 2019. An update will be posted when we return to normal operations.
There are two elevator access points to assist in getting to the roof (5th floor); one elevator access point is beside Tim Horton's (through the doors and to the right) and the other is beside the security office. The 40cm telescope is setup on the far corner of the roof towards the Bergeron Engineering building.
We are also operating on our winter schedule for public viewings, so public viewing is now from 7:30pm till 9:30pm on Wednesdays. More info can be found under the public viewing page on our website.
The temporary change in public viewing location comes as the Observatory undergoes renovations to prepare for the much anticipated arrival of the 1-meter telescope later this year.