Killarney Parks AIR (Astronomer In Residence) Program
2023 Applications Open on January 9th!!!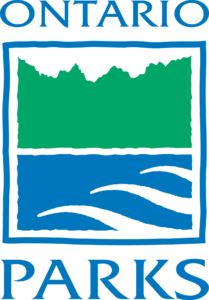 Killarney Parks and the Allan I Carswell Observatory present, a new Astronomy outreach endeavour, the astronomer in residence program! You can apply to join this exciting chance to share your love of astronomy in the wonderful outdoors of the dark sky site at Killarney provincial park with live, in-person tours as well as remote events.
On this site you will find application requirements, program descriptions, and of course some details about the outreach done by our astronomers in residence. This opportunity comes with free parking, lodging and a stipend of 400$ CAD/week but astronomers are required to provide their own transportation. Our first astronomer in residence was scheduled May 2022! Over the summer we will welcome 9 astronomers in residence for the weeks listed in the schedule below! 2022 is all booked but 2023 applications will be open in January.
In recent news, we now have RASC Badge Recognition! RASC badges are recognized in the AIR application, so if you have earned them make sure to include that in our application. All RASC members and non-RASC members will have the opportunity to EARN badges while visiting our Astronomer in Residence at Killarney Park.
Questions not addressed on this page? contact the Allan I Carswell Observatory director Dr. E.A. Hyde at eahyde@yorku.ca
Astrophotography by Bruce Waters using the Killarney Park Observatory Telescopes.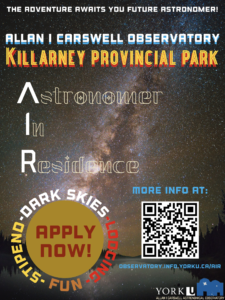 Our 2022 Astronomer in Residence Blogs: 
Read all about the adventures of our 2022 AIR candidate here!
You can follow along on the blog or photo-gallery as well as attend in-person events at the park and streaming events online at the observatory livestream link.