Follow along with all the adventures at Killarney Park with our AIR blogs here!
How to Find the Astronomy Shows:
To find out WHAT is playing each week, stop by the Visitor Centre shown in the map on the left. At Killarney Park it can be challenging to find your way, so one of our Astronomers has made you 2 handy videos!
To get to the Amphitheatre in the park. For amphitheater events you can come directly to this location.
The pathway at the back of the main parking lot that you need to take to get to the telescope viewing area. Please note that

this is a private area for workers and is only open to the public during special viewing events

that will be announced.

Meet for observatory tours at the visitors centre

.
Week 5 September
Astronomer in Residence: Quinton Weyrich AIR Term: September 19 - October 9
  Quinton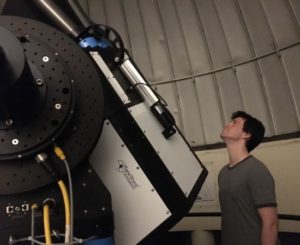 Weyrich is the outreach coordinator for the Royal Astronomical Society of Canada at the David Dunlap Observatory in Richmond Hill, where he helps host monthly events and educational talks with researchers and educators within the astronomy community. He holds a bachelor's degree in physics from York University, where he served as the student coordinator for the Allan I Carswell Observatory from 2020-2021. Quinton also regularly appears as a host on the astronomical radio program York Universe, hosted by the students, faculty, alumni, and friends of York University. In his spare time, Quinton enjoys stargazing, writing, skiing, and hiking in the great outdoors.
Week 5 September
Photos coming soon
Blog
Week 4 September
Week 1 October
Week 2 September
Astronomer in Residence: Raj Seehra AIR Term: September 5 - 11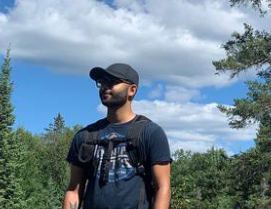 Raj is a fourth year undergraduate student pursuing a degree in Astrophysics at the University of Manitoba. He received his first telescope as a birthday gift in 2016 and has used it routinely since. He goes out often to image as an avid amateur astrophotographer and enjoys all things space (and physics!). In free time, Raj loves to spend time cooking, playing sports, writing, and being outdoors.
Blog
Week 1 September
Astronomer in Residence: Elaina Hyde AIR Term: August 22 - September 4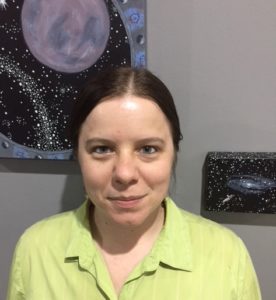 Dr. Hyde is the Director of the Allan I Carswell Observatory and AIR program contact. Her research is "in and above the cloud", combining astrophysics, data science, cloud computing, planetary sciences, optical engineering, telescope operations and telescope observations. She has worked with instrumentation and telescopes around the world, and currently provides technical leadership for York University's Allan I. Carswell Astronomical Observatory. Her motivation is the promotion of astronomy education and research through public telescope activities and exploration. As a lecturer, trainer, and consultant, she innovates teaching methodologies for interdisciplinary audiences across the sciences as well as for businesses, students and the general public.
Blog
Week 4 August
Week 3 August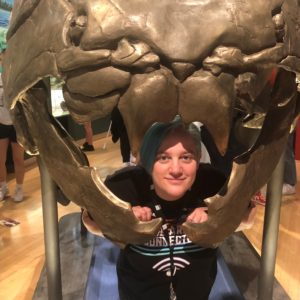 Astronomer in Residence: Julie Tomé AIR Term: August 15 - August 21
 For over 20 years Julie Tomé has inspired wonder and curiosity about the night sky through her work at various observatories, science centres, and museums, as well as through numerous outreach activities and the York Universe radio program. As a Museum Educator, Julie shares her passion for all things science and history with folks of all ages through school programs, camps, exhibitions, and special programs.
Blog
Week 2 August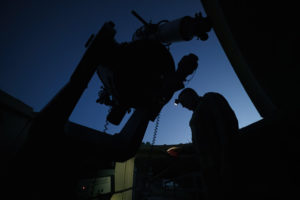 Astronomer in Residence: Bruce Waters AIR Term: August 8 - August 14 Bruce has been teaching astronomy to the public since 1981 and in the provincial park system every year since 1985. He was at the McLaughlin Planetarium as star theatre operator, producer and educator and ran the last public star show with the hope that, one day, the stars would shine down upon Toronto again. He also authored "A camper's guide to the universe" in 2012" and is the author of the Ontario Parks monthly astronomy blog. Finally, he is the co-founder of Stars over Killarney - an annual astronomy program featuring topics that connect to the Park (2018).
Blog
Week 5 July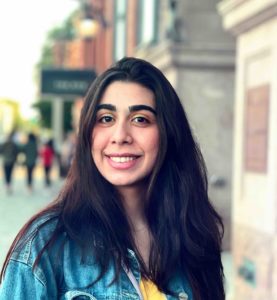 Astronomer in Residence: Parisa Nozari AIR Term: July 18 - July 31
 Astronomer Parisa Nozari is a graduate student in Astronomy and Astrophysics at Queen's University. She studies star formation, specifically working on dust grains, tiny little sands spreading out through the interstellar medium and sometimes blocking our view to see objects in the sky. These same tiny little dust grains coagulate together to form stars and planets, so all the better to love them if you are into stars! When the weather is nice, she enjoys being outside, hiking, camping, stargazing.
Blog
Week 4 July
Week 3 July
Astronomer in Residence: Tom Vassos AIR Term: June 27 - July 17
 Tom Vassos has devoted thousands of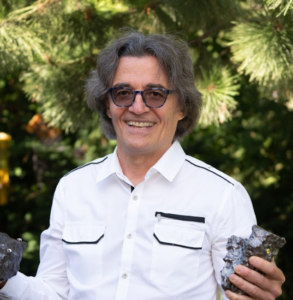 hours researching his lifelong passions – astronomy, cosmology, astrophysics and space exploration. He is the Founder of Cosmologists Without Borders and a Member of the Royal Astronomical Society of Canada. Mr. Vassos is the author of the book, "The Ultimate Guided Tour of the Universe," and he delights in imparting his knowledge to space enthusiasts, young minds and lifelong learners everywhere.
Blog
Week 2 July
Week 1 July
Week 4 June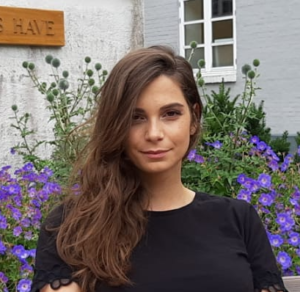 Astronomer in Residence: Caroline El Khoury AIR Term: June 20-26 Caroline graduated from the University of Toronto with a degree in Physics and Astronomy. In 2019, she received a research grant to work as an intern at ASTRON – and from there was inspired to continue doing research, but to begin a journey that involves a lot of outreach! Caroline took her love of astronomy and hiking and started a social media page (@caroline_elkhoury) where she showcases all her adventures.
Blog
Week 4 May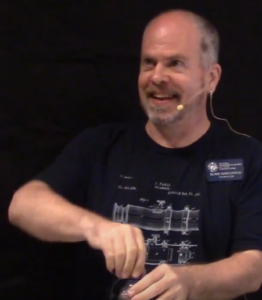 Astronomer in Residence:
Blake Nancarrow AIR Term: May 9-May 29 2022
Blake Nancarrow is a life-long science, astronomy, & space-flight nerd. He bought his first telescope in 1990 and immediately took it on camping trips. A Royal Astronomical Society of Canada member, he is currently the national Observing Committee chair & software training coordinator. Blake regularly writes for the RASC Journal & SkyNews magazine.
Blog
Week 3 May
Week 2 May